It's time to honor mom! Mother's Day will be here in a couple of weeks. This is such a special time to let mom know how much she is loved and appreciated. Many of you do not have the privilege of sharing moments with your mom. I miss my mom; having her here to share all of life's moments. She passed away several years ago. So, those of you who have your mom here, take every moment you can and spend time with her. Make sure she knows how grateful you are to have her in your life.
So what are the best ways to say "Thank You, Mom"? Doing something together is a great gift. My two daughters often will take me flower shopping. We take off to a garden shop, take a tour checking out all the beautiful blooms, and then make a purchase selecting our favorites. We come back home and they help me plant the flowers. All summer long as I look at the flowers growing, I am reminded of our wonderful time together.
Going out for brunch or dinner is a popular way to celebrate the day. Taking mom to her favorite restaurant or bringing food in provides time to talk, share what's gong on, and connect.
Another great outing is shopping! The ladies will probably like this more than you fellows. My daughters do this one often with me on Mother's Day. We will go to our favorite stores and check out what's new in fashion. It is a fun way to explore and share time together.
If you are looking for a unique, personalized gift, a piece of jewelry makes for a special present. Birthstone jewelry is a favorite. Speaking of birthstones, Love Is A Rose can create a personalized, engraved family tree. All of your family's names birth dates, and birthstones will decorate the tree branches. You will be celebrating mom and the family she created for years to come!
If you more techy, how about creating a video for mom?! You could include images from years past and some current ones. Or even putting a photo of you, the kids, grandkids in a frame would be a cherished gift.
A bouquet of flowers or a plant are often chosen particularly if mom lives in a different geographic location than you. You can get mom a personalized real flower at Love Is A Rose! The real, preserved gold dipped roses come in a variety of colors. The best part is you can put your personal message on the flower petal and even add birthstones. You can add a personalized heart charm with another message. Adding a vase with family names and birthstones, if you haven't already put the stones on the flower, make for a beautiful gift. You will be able to give mom a personalized Mother's Day rose that will last a lifetime!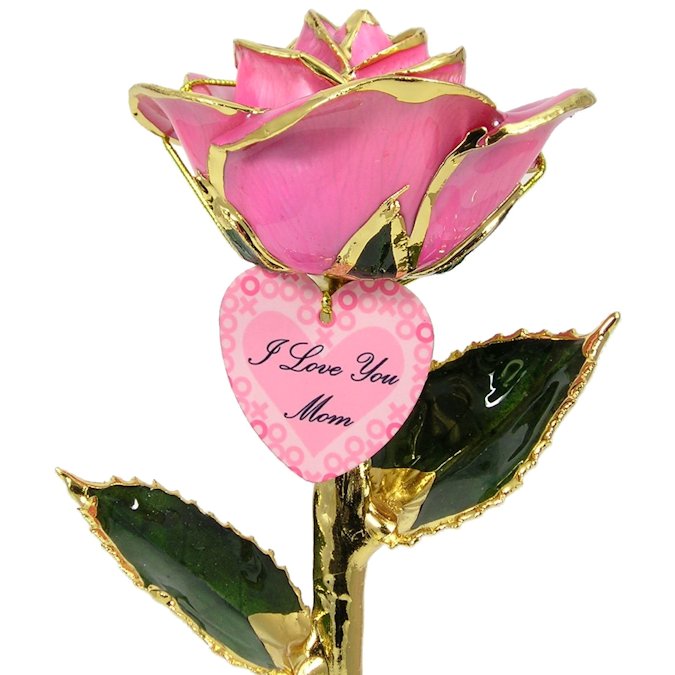 And the BEST gift of all? A love message from your heart. Write a note to mom. Let her really know how special she is, how grateful you are to have her in your life, and how much you appreciate her.
This message from T.B., San Antonio, TX to his mom says it all:
"Mom, I know that there is no way on earth I could ever show all of the appreciation and love I have for you. But I will try in every way to show you every day just how much you mean to me. I saw this rose and thought it was such a cool idea. The rose is a symbol of love and while most roses will wilt away, this one will not. It has been preserved and will never wilt, just like my love for you will never wilt. Thank you so much for always being such a good friend, role model, teacher, provider, partner, helper, caretaker, and most importantly mom. You have raised me up with love and good values and because of you I am the person I am today.
Thank you so much. I love you.
-Your son."